SOME FOLKS SEEN AROUND THE HOSPITAL FAMILY

MARCH 30TH 2001 IS LOVE YOUR DOCTOR DAY,
IF YOU CAN'T, SEE THE BEAUTY IN PEOPLE
HOLD MOUSE POINTER OVER PHOTO BELOW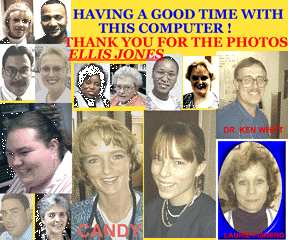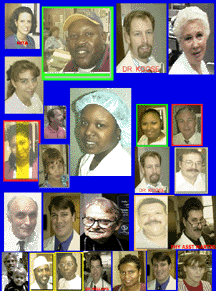 WATCH YOUR HEALTH, TRY NOT TO RIDE IN THE BACK OF THIS VEHICLE.



CALLIE WAS MY FIRST. I AM NOW CLOSE TO 1000 PHOTOS.
TO SKIP TO PHOTOS TAKEN FIRST (1998) UP TO PRESENT... CLICK THIS LINE


OR RECENT PHOTOS (PRESENT BACK)... CLICK BELOW

MORE FOLKS SEEN AT CARERET GENERAL..CLICK THIS LINE
THANKS EVERONE FOR HELPING ME TO ENJOY THIS HOBBY..........Ellis